A new paper published by the Çukurova University Faculty of Medicine in Adana, Turkey, re-examines historical cases of mucormycosis in children. Mucormycosis is an emerging fungal infection with poor health outcomes. This infection is of particular interest due to its links to increased fatalities in the COVID-19 outbreak in India.
This retrospective review focuses on twenty paediatric cases with biopsy-proven mucormycosis, that were reported in Southern Turkey, between 2007-17.
Certain risk factors were identified, including hematologic malignancy, as a significant safety concern, as well as hematopoietic stem cell transplants or being in receipt of a solid organ transplant. The authors outline the major diagnostic symptoms displayed, with the main indicator being fever.
Environmental risks are also discussed in the paper, with a direct correlation suggested between infection rates and peak spore seasons in warm, humid climates.
The recommended management for overall survival of invasive mucormycosis is outlined as surgical debridement combined with anti-fungal therapy. Restoration of the underlying immune status is also considered as a factor in improved patient outcomes.
You can access the full paper here.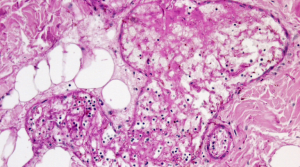 Turkish review of mucormycosis in children shows high mortality rate and importance of urgent evaluation when infection is suspected