Pneumocystis jirovecii pneumonia (PCP) is one of the most frequent infections seen in people with HIV. Before antiretroviral therapy (ART) became commonplace, mortality from PCP was exceptionally high if it led to respiratory failure, with an in-hospital mortality of 80%. With the advent of ART, in-hospital mortality rates have improved to around 10%.
This new study from Maryland, USA looks at the long-term outcome after PCP in the ART era. Overall survival was similar to those without PCP, but those with PCP had more frequent restrictive lung pathology and worse lung function. Bronchiectasis (13%), persistent ground-glass opacities (29%) and mediastinal or hilar lymphadenopathy (27%), some of which could have been attributable to other pulmonary infection or Kaposi sarcoma. In proven cases of PCP, lung function (FEV1, FVC, TLC and VC) were reduced months after recovery.
PCP also could pose an increased risk for incident cytomegalovirus disease with corticosteroid treatment. These findings suggest that PCP and its treatment may contribute to long-term morbidity in PWH, even in the ART era.
This study has demonstrated that a history of PCP in people with HIV receiving ART, was associated with long-term CT and PFT abnormalities, but not with impairment in immune reconstitution or increased mortality risk.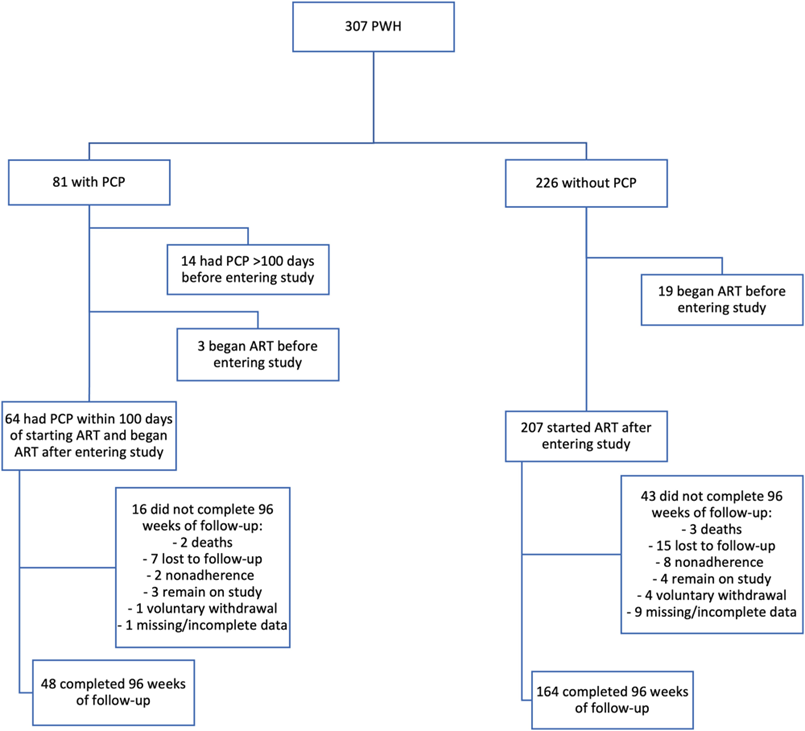 Persistent lung defects after recovery from PCP in AIDS