Invasive fungal infections (IFIs) are one of the foremost causes of morbidity and mortality among critically ill and immunosuppressed paediatric patients. Within intensive care units, children with these infections are more likely to die.
Shaly and colleagues look at the prevalence of IFIs in children under the age of five at a Bangladeshi urban diarrheal disease hospital. Candidaemia is the leading IFI identified in this study (4.3-8.1 cases per 10,000 admission), with Aspergillus, Cryptococcus and Histoplasma species all being encountered in smaller numbers.
Malnutrition is one of the main factors in secondary immunodeficiency and this leads to a greater susceptibility to gastrointestinal and respiratory infections, often with fatal outcomes. In previous years, childhood malnutrition was closely linked to pneumocystis pneumonia, but this was not addressed in the paper.
This study also highlighted a distinct gender bias, with females in Bangladesh being treated very differently from birth. This applies to food allocation, education, and access to healthcare. It was noted that female children were more likely to be severely malnourished and dehydrated than male children, leading to a higher burden of IFIs in female children.
This review found that 11% of children monitored had an IFI. The authors recommend that children presenting with malnutrition and septic shock require targeted screening for IFIs. This will help to reduce IFI-related deaths.
You can access the full study here: https://www.mdpi.com/2075-1729/12/1/94/htm#B45-life-12-00094
Find out more about Candidaemia here: https://en.fungaleducation.org/invasive-candida/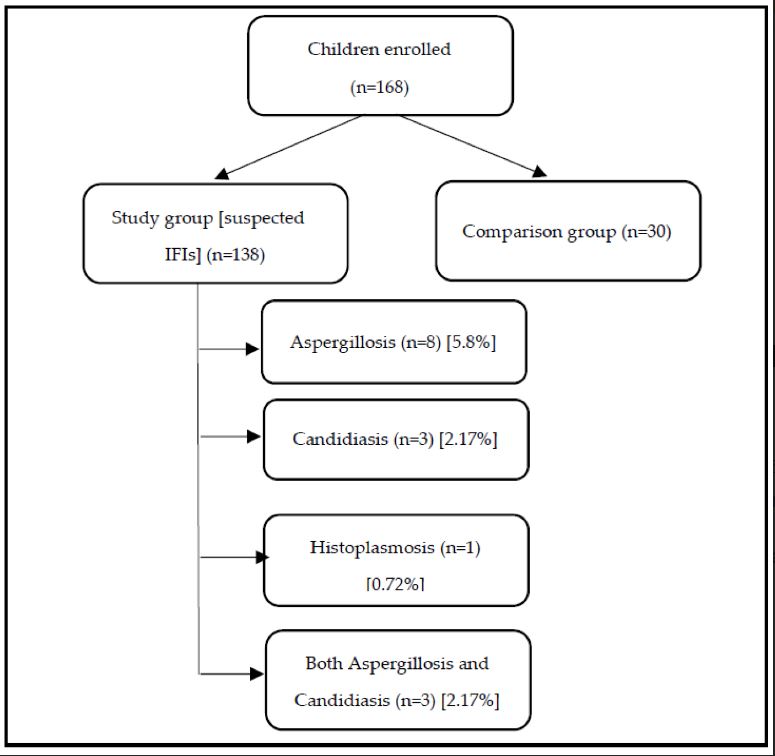 Bangladeshi study highlights frequency of invasive fungal infections in paediatric patients at diarrheal hospital