As in other low and middle income countries serious fungal infections (SFI) remained neglected in Ghana despite rising trend globally. Most of these infections are undiagnosed or misdiagnosed, leading to no treatment or wrong treatment. Low indices of suspicion among clinicians and gaps in the availability of diagnostics services and antifungal drugs are the identified causes. Furthermore, the government and public health agencies have paid less attention to fungal infections.  Increasing awareness is a significant initial step to change the status quo.
On Friday, 1st February, 2019 Fungal Infections Care Ghana (FIC Ghana) in commemoration of World Aspergillosis Day organised a Chronic Pulmonary Aspergillosis (CPA) awareness seminar on  "Considering CPA for improved TB Management"  at the Korle-Bu Teaching Hospital, Accra, Ghana. The meeting was supported by AdvansMyco Konsult, European Confederation of Medical Mycology, Amfree Pharmaceutcals Limited and Global Action Fund for Fungal Infections (GAFFI).
There were 82 attendees from four regions. Attendees comprised of clinicians, microbiologists, medical laboratory scientists, nurses, pharmacists, allied healthcare practitioners, health sciences students and non-health care professionals.
Guest speakers, Dr Rita Oladele (Nigeria GAFFI ambassador) presented on "CPA: A cause of smear negative TB and/or TB treatment failure" and Prof David Denning (GAFFI Chief Executive) via a pre-recorded video presented on "CPA: Clinical spectrum, Diagnosis and Treatment". The seminar was chaired by Dr Jane Afriyie-Mensah (Head, Chest Diseases Unit, KBTH).
Dr Afriyie-Mensah opening the seminar pointed out her dismay for the term " smear negative TB" and expressed how coupled with lack of awareness, low index of suspicion and gaps in diagnostics and antifungal drugs makes it difficult for the Ghanaian clinician and scientist to consider CPA as a differential diagnosis of TB.
In his welcome address, President of FIC Ghana, Mr Bright Ocansey highlighted the global burden of SFI, briefed attendees on the results of the study he had led to estimate the burden of SFI in Ghana. To conclude he said:
" I believe it is a joint responsibility for us all and not just the government and its agencies or healthcare professionals. However, being the principal catalysts I call on the Government of Ghana and all stakeholders of the health sector to take a wider role and be more active in giving the needed attention to fungal diseases "
During her presentation, Dr Oladele highlighted the challenges in differentiating TB from CPA. After updating attendees on a study she had undertaken in Nigeria which concluded CPA was a significant cause of smear negative TB and/or TB treatment failure, she charged Ghanaian clinicians and scientists to consider CPA as differential diagnosis of TB. She also stressed on the need for regional or national cut off/breakpoints for Aspergillus IgG which can be coupled with Chest X-ray to make a probable CPA diagnosis.
Prof George Odamtten (Consultant Plant Mycologist, University of Ghana) in a comment advised the need for more collaboration between plant mycologists and medical mycologists in addressing the burden of fungal diseases.
FIC Ghana hinted many of such seminars will be organized in future in line with its vision to become the main driver of fungal disease advocacy in Ghana.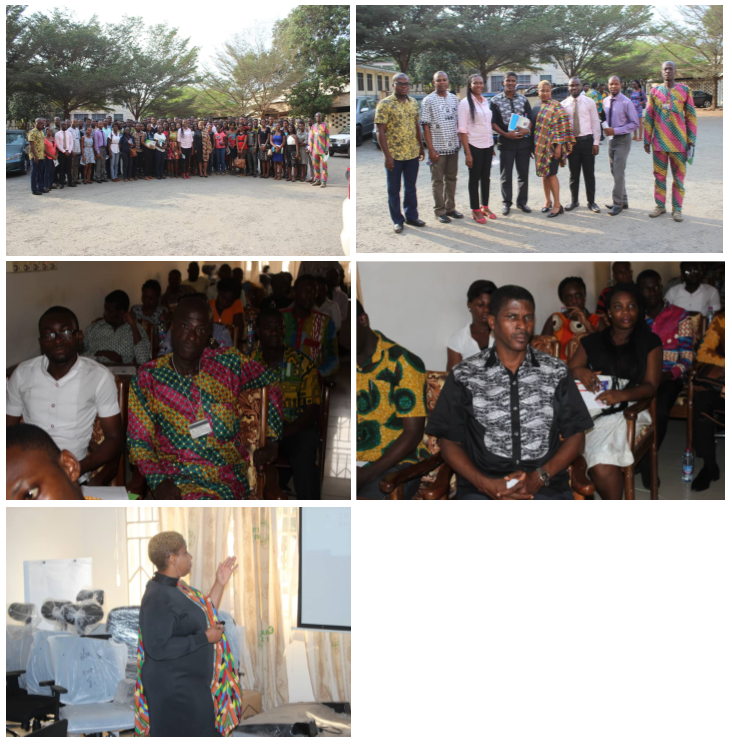 Fungal Infection Care Ghana's CPA Awareness Seminar on World Aspergillosis Day