Histoplasmosis is endemic to much of the Americas, and is often acquired by inhaling Histoplasma capsulatum microconidia when soil containing bird or bat droppings is disturbed. Clinical presentation varies depending on the size of inoculum and the patient's immunological status.
Dr Silvia Staffolani and colleagues in Italy published a systematic review (including grey literature) of acute histoplasmosis in immunocompetent travellers. They found 835 patients (including 45 clusters) described, but this is thought to be the 'tip of the iceberg'.
Manifestations included fever (91%), cough (55%), constitutional symptoms (58%), headache (52%) and chest pain (41%). Median age was 29 and 64% were male. Diagnosis of histoplasmosis was often not confirmed by culture/microscopy: 32 cases were proven, 695 were probable, and 108 were possible (read the EORTC/MSG definitions). The only patient reported to have died also had typhoid and hypercalcaemia.
 Clinicians should consider histoplasmosis in any patient presenting with fever and respiratory symptoms who has returned from an endemic region in the past 3 months, especially construction workers, researchers or volunteers who have carried out activities such as building renovation or outdoor activities (e.g. caving) involving close contact with bird/bat excreta. Radiography (CT) is useful for distinguishing it from bacterial/viral pneumonia, as multiple peripheral nodules with halo sign are frequently present.
Read the paper: Staffolani et al (2018) Acute histoplasmosis in immunocompetent travellers BMC Infect Dis 18:673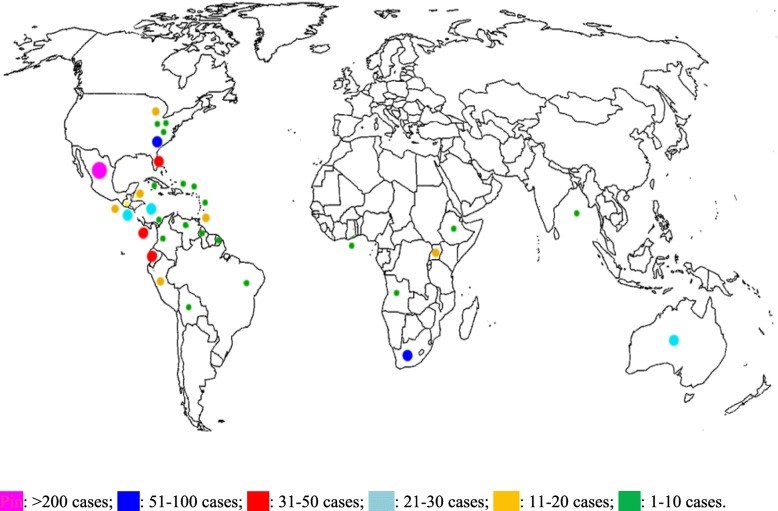 Suspect histoplasmosis in returning travellers from an endemic area presenting with fever and cough