SUMMARY: This week a team from the University of Manchester, London School of Hygiene and Tropical Medicine and GAFFI presented work at ECCMID showing the burden of fungal disease estimates for Namibia, Paraguay and Kyrgyzstan, and that fungal keratitis leads to over 600,000 blind eyes annually.
Over 1.1 million cases of fungal keratitis are documented annually, leading to >100,000 perforated or surgically removed eyes and >500,000 blind eyes, according to a team from the University of Manchester, London School of Hygiene and Tropical Medicine and GAFFI. Lottie Brown presented this systematic review at Europe's premier infection meeting ECCMID (Amsterdam) earlier this week.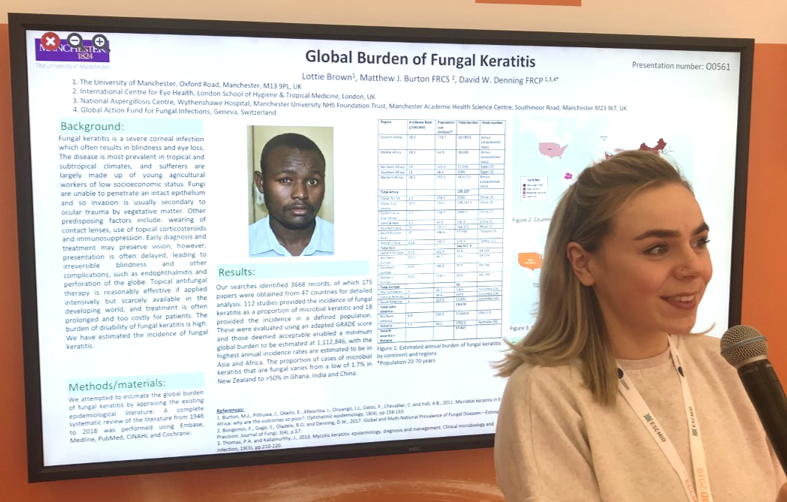 Of 397 published papers, 112 provided data on the ratio of fungal keratitis to all microbial keratitis. The proportion varied from as low as 1.7% in New Zealand to >60% in Asia, especially Nepal and India.
Only 17 papers provided information on the annual incidence of fungal keratitis, which varied from as low as <0.1/100,000 in UK, Ireland, Denmark, to as high as 60 and 73 per 100,000 in India and Nepal, respectively.
Over 50% of patients are left blind in one eye and 10-13% need the eye removed to avoid perforation.
Alongside these estimates the overall burden of fungal infections was estimated for another three countries: Namibia, Paraguay and Kyrgyzstan.
Namibia (population 2.5 million) has a high rate of HIV infection and the estimated prevalence of Pneumocystis pneumonia and cryptococcal meningitis were 34 and 22/100,000 respectively.
Paraguay (population 7 million) has many patients affected with endemic fungal infections including histoplasmosis and coccidioidomycosis, and a very rate of asthma (6.4% of adults) and its complications ABPA and SAFS (112 and 148/100,000).
Kyrgyzstan (population 6 million) has the highest mortality globally for respiratory disease (WHO 2013/4) and 10% of adults have an inhaler for COPD or asthma. Given this, it is no surprise that the estimated rates of chronic pulmonary and invasive aspergillosis are among the highest int he world at 240 and 16/100,000 respectively.
ECCMID 2019 presentations: burden of fungal disease estimates for Namibia, Paraguay and Kyrgyzstan