Rhizopus is a filamentous fungus found on soil and decaying plant matter, including man crops. Infections are rare but invasive, with a particularly high mortality rate.

Factsheets
Rhizopus arrhizus
NAMES
Rhizopus arrhizus (formerly Rhizopus oryzae)
NATURAL HABITAT
It has been found in soil, decaying fruit and vegetables, animal faeces, and bread.
GEOGRAPHY
Worldwide
PREVALENCE
The most common cause of mucormycosis.
DISEASES
The most common infection is rhinocerebral mucormycosis, but other organs can be involved such as skin, subcutaneous tissue, and lungs. Cases are mostly associated with uncontrolled diabetes mellitus. In haematological patients, the incidence of mucormycosis is rising.
CULTURE
R. arrhizus grows quickly. Within 24 hours, a culture plate will be filled with a grey-brownish mycelium. Isolates are partially thermotolerant, being able to growth at 40ºC but not at 45ºC.
Biosafety level 1
ANTIFUNGAL RESISTANCE
The most active antifungal agents are amphotericin B and posaconazole. Itraconazole has limited activity. R. arrhizus is intrinsically resistant to voriconazole and echinocandins.
INDUSTRIAL USES
In Asia and Africa it is used in the production of alcoholic beverages. It also produces lactic, fumaric and malic acid. Reviewed by Londoño-Hernández et al (2017).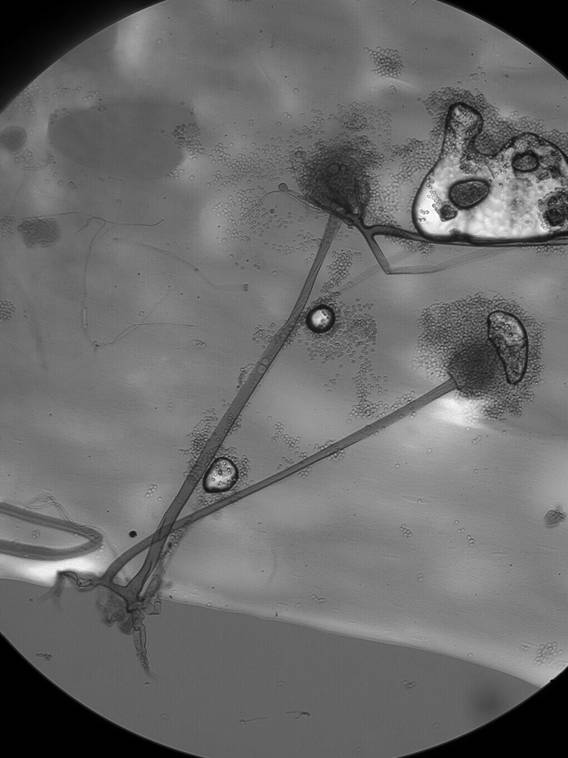 Rhizopus microsporus
NAMES
Rhizopus microsporus has four varieties:
– var. microsporus
– var. rhizopodiformis
– var. oligosporus
– var. chinensis
NATURAL HABITAT
Commonly found in soil, decaying plant debris and foodstuffs.
GEOGRAPHY
Worldwide
PREVALENCE
Frequency is unknown, but it is accepted as the second most common cause of mucormycosis. This species is associated with gastrointestinal and cutaneous infections and mycotic abortion in animals.
DISEASES
HUMANS: particularly associated with the cutaneous and gastrointestinal forms of the disease. Outbreaks of intestinal infections have been reported. Other forms of the disease such as pulmonary, rhinocerebral, central nervous system and disseminated infections, are less frequent.
ANIMALS: It is the most frequent member of the Mucorales to cause infections in other mammals. It can be factor in swine and bovine abortion.
CULTURE
R. microsporus is fast growing, hairy and dark greyish-brown in colour. Sporangiophores are brownish and commonly observed in pairs. Sporangia appear spherical and greyish-black in colour. Sporangiospores appear hyaline, angular, subspherical or ellipsoidal and striate. It can grow at 50-52ºC. The differentiation between varieties requires great expertise or the sequencing of DNA targets.
Biosafety level 2
ANTIFUNGAL RESISTANCE
All isolates are resistant to fluconazole, ketoconazole, voriconazole and the echinocandins. Usually susceptible to amphotericin B and posaconazole. Variably susceptible to itraconazole.
INDUSTRIAL USES
It is used in the production of tempeh, a natural soy product originally from Indonesia.