Infections are a leading cause of mortality in patients who are immunosuppressed following a transplant. Antifungal prophylaxis may be indicated but be aware that this can affect the performance of some biomarker tests and may carry a high risk of serious drug interactions.

Solid organ transplants
Surveillance of 1063 patients from 15 TRANSNET centres across the US (Pappas et al, 2010) showed that overall incidence of invasive fungal infections was around 3% in the first year.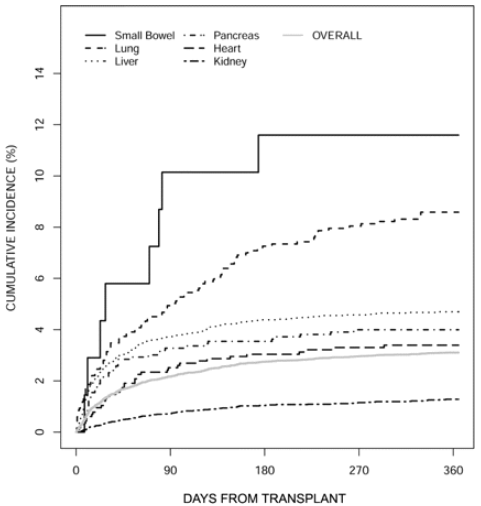 Haemato-Oncology
Rates of IFI vary between different types of haematological malignancy (Pagano et al, 2006).
| | | | | | |
| --- | --- | --- | --- | --- | --- |
| AML | ALL | CML | CLL | Lymphoma | Multiple myeloma |
| 12% | 6.5% | 2.5% | 0.5% | 0.7-1.5% | 0.5% |
You may also be interested in these topics
Invasive aspergillosis
Candidaemia
P. jirovecii pneumonia
Mucormycosis
Oesophageal candidiasis
Guidelines on prophylaxis and empirical therapy