Dimorphic fungi are able to grow in the form of either a yeast or a filamentous fungus, depending on temperature.
In Histoplasma capsulatum, higher temperatures (>35ºC) shift the fungus towards the yeast phase, whereas typical environmental temperatures below 35ºC promote a filamentous fungal shape.
Coccidioides immitis switches in tissue to form spherules, rather than yeasts.
Pneumocystis jirovecii switches at the same temperature in the lung between cysts, which stain well with silver stains and trophozoites with are reminiscent of amoebae and poorly staining with silver.
Most Candida species (with the notable exception of C. glabrata) are also dimorphic in tissue, exhibiting yeast forms and hyphal forms, but are placed within the yeasts section below, as this is the predominant morphology seen in the mycology laboratory.
Jump to: Talaromyces, Blastomyces, Coccidioides, Histoplasma, Paracoccidioides

Factsheets
Talaromyces marneffei
NAMES
Talaromyces marneffei (previously Penicillium marneffei)
NATURAL HABITAT
Not known with confidence. Cultures have usually been positive from bamboo rats (4 different species) and humans, and rarely from environmental sources. However, epidemiological studies suggest environmental acquisition.

In the USA other species of Taloromyces have caused infections in dogs, including meningoencephalitis.
GEOGAPHY
Southeast Asia, notably Thailand, Vietnam, Hong Kong, southern China, Taiwan, India, Indonesia, Cambodia and Laos. May be acquired in these localities and present with disease anywhere in the world.
FREQUENCY
Uncommon except in these locations, in which areas it is a common AIDS-defining illness. Increased incidence during the rainy season in Thailand.
DISEASES
Disseminated infection in context of AIDS with prominent skin lesions
Pneumonia in other immunocompromised individuals.
CULTURE
Talaromyces marneffei is the only dimorphic fungus in the genus. It grows rapidly on Sabouraud dextrose agar but is inhibited by cycloheximide. At 25°C, the colonies of Talaromyces marneffei are granular with shade of greenish-yellow colour and a characteristic red diffusible pigment. Little or no red diffusible pigment is produced by the yeast form at 35 to 37°C. Microscopically, the mould form is typical of other Talaromyces species with hyaline septate hyphae and fruiting structures composing of branching metulae and phialides which produce spherical conidia in chains. As several species of Talaromyces produce red diffusible pigment, definitive identification by sequencing is desirable in countries in which this organism is not common.
Biosafety level 3
ANTIFUNGAL RESISTANCE
All isolates are susceptible to 5-flucytosine miconazole, ketoconazole, itraconazole, voriconazole and amphotericin B. Fluconazole is relatively inactive.
INDUSTRIAL USES
While many Talaromyces species have major industrial utility (cheese-making in particular), Talaromyces marneffei has none.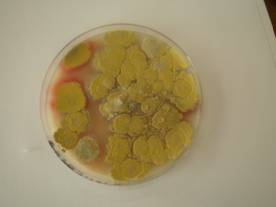 Blastomyces
NAMES
Blastomyces dermatitidis
[teleomorph: Ajellomyces dermatitidis ]
NATURAL HABITAT
B. dermatitidis is very rarely isolated from the environment. It inhabits decaying wood material and so moist soil rich in organic material is probably its favoured niche, such as woodpiles, riverbanks and beaver dams.
GEOGRAPHY
B. dermatitidis is very rarely isolated from the environment. It inhabits decaying wood material and so moist soil rich in organic material is probably its favoured niche, such as woodpiles, riverbanks and beaver dams.
FREQUENCY
Very rarely isolated from the environment, but PCR detection rate is slightly higher.
DISEASES
Pneumonia in non-immunocompromised and immunocompromised individuals.
Skin disease in non-immunocompromised people.
Rarely dissemination to other organs, especially bones and genitourinary tract.
Also a pathogen of dogs.
CULTURE
Like other dimorphic moulds, B. dermatitidis is a mould at 25°C and a yeast at 37°C. In the laboratory the conversion from yeast to mould is slow and may not be seen. At 25°C growth is slow to moderately rapid, but cultures should be retained for 4 weeks. Colony texture is membranous and downy to woolly. With a surface colour of white to light brown. The reverse is pale to brownish. It does not produce arthroconidia. Conversion to a yeast form at 37°C is best seen an enriched medium such as brain heart infusion, with blood. Growth rate is variable with a colony texture typically creamy and yeast-like and granular to verrucose on the surface, white to beige.
A positive identification can be made with molecular tools.
Biosafety level 2
ANTIFUNGAL RESISTANCE
Isolates are susceptible to miconazole, ketoconazole, itraconazole, voriconazole, posaconazole and amphotericin B. Fluconazole and echinocandins are relatively inactive.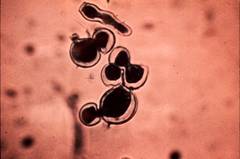 Coccidioides
NAMES
Coccidioides immitis, Coccidioides posadasii
NATURAL HABITAT
Soil with a restricted geographical distribution. Endemic to lower sonoran desert ecozone.
GEOGRAPHY
Primarily hot, arid areas of southwestern USA, northern Mexico and focal areas of Central and South America (see map).
FREQUENCY
Rarely isolated from soil, certain 'hot spots' have been identified because of the higher frequency of diseases. As only 40% of those infected develop disease and ~25,000 new, clinical cases of coccidioidomycosis are reported annually, this implies ~60,000 infections annually in the USA. Probably similar numbers occur in central and south America.
DISEASES
Coccidioidomycosis refers to disease caused by either of the above species. Infection may be a self-limited primary infection (often called Valley Fever after the San Joaquin Valley in central California) or pneumonia. Subsequently other progressive forms of coccidioidomycosis occur including:
– Meningitis
– Disseminated disease to the skin, lymph nodes, bone, or any other body site
– Nodules in the lung
– Chronic cavitary pulmonary coccidioidomycosis
CULTURE
C. immitis grows on many fungal media in 2-7 days, but poorly, or not at all, on standard bacterial media such as blood agar. C. immitis is difficult to culture from blood and CSF, even in the context of disseminated disease or meningitis.
Biosafety level 3
What to do in case of accidental exposure in the laboratory (Stevens et al, 2009).
ANTIFUNGAL RESISTANCE
Coccidioides immitis is susceptible to most antifungal agents except terbinafine and flucytosine. The agents of choice for treatment include amphotericin B for very ill patients, itraconazole, fluconazole and posaconazole.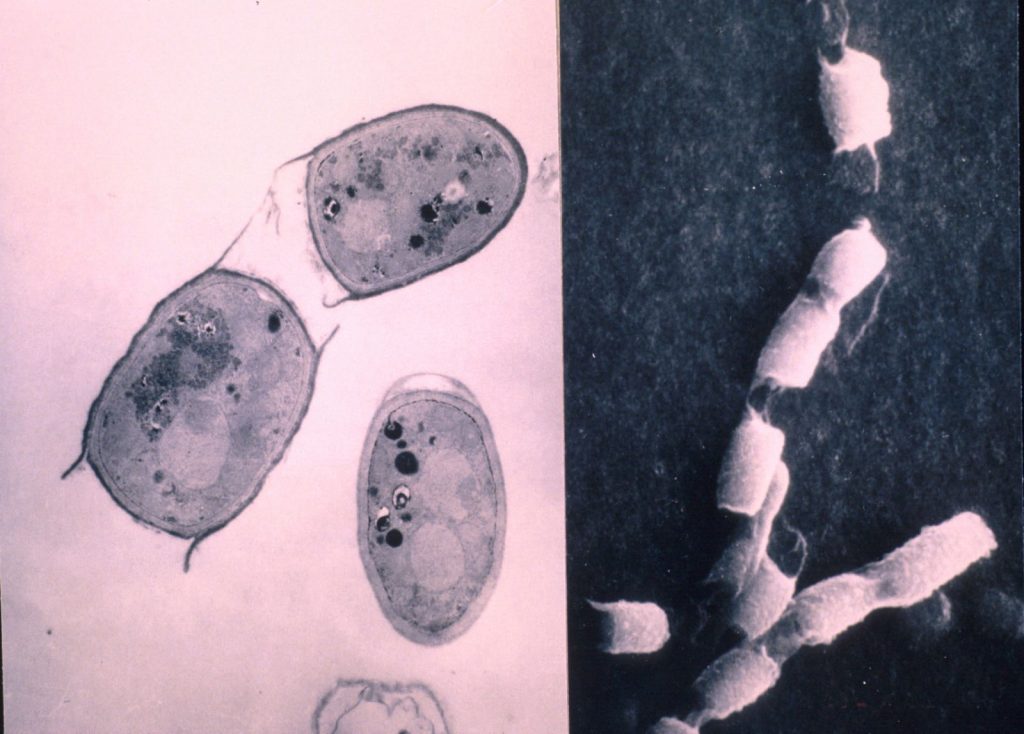 Histoplasma
NAMES
Histoplasma capsulatum, Histoplasma capsulatum var. duboisii
NATURAL HABITAT
Bird and bat droppings; soil and dust.
GEOGRAPHY
H. capsulatum is found worldwide. Common cause of chronic pneumonia in the USA, particularly around Ohio River Valley and lower Mississippi River.
Other central and South American countries have endemic areas of histoplasmosis.

Common in caves in Southern and East Africa.

H. capsulatum var. duboisii has a more limited distribution, limited to tropics of Capricorn and Cancer, and Madagascar.
FREQUENCY
Positive histoplasmin test in 90% of individuals living in high-risk areas such as the Eastern & Central US.
DISEASES
Histoplasmosis (cave disease/caver's disease; Darling's disease; Ohio Valley disease; reticuloendotheliosis; spelunker's lung):
– Primary pulmonary histoplasmosis
– Progressive disseminated histoplasmosis
– Chronic cavitary pulmonary histoplasmosis
– African histoplasmosis
CULTURE
For a historic review of H. capsulatum var. duboisii cases see Develoux et al 2021.
Biosafety level 3
ANTIFUNGAL RESISTANCE
Susceptible to all systemic antifungal agents except the echinocandins, especially itraconazole and amphotericin B. One noted case of an AIDS patient in which H. capsulatum var. duboisii showed acquired resistance to fluconazole. This is due to decreased sensitivity towards ergosterol synthesis.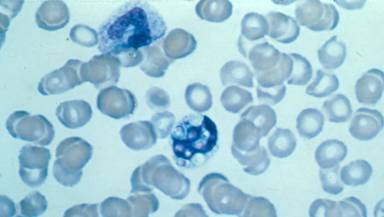 Paracoccidioides
NAMES
Paracoccidioides brasiliensis (complex of 4 cryptic species); Paracoccidioides lutzii (appears to be a single species). Teleomorph unknown
Reviewed by San-Blas et al (2002)
NATURAL HABITAT
Agricultural/forest environment.
GEOGRAPHY
Central and South America
FREQUENCY
Important mycosis in tropical areas of American continent with temperatures between 1-30ºC, altitude below 2,000 m and acidic soils. Few studies have been performed to know the real prevalence of the infection. Although it is variable, it seems that Brazil has the highest annual incidence estimated in 1-3 cases per 10,000 inhabitants. Other countries where the infection is frequently diagnosed are Argentina, Colombia, Ecuador, and Venezuela. Much more frequent in males, with a male female ration of ~20:1.
DISEASES
Agent of paracoccidioidomycosis. Systemic chronic disease. It can affect inmunocompetent patients although the infection becomes more aggressive in inmunocompromised hosts. Produces initially a pulmonary infection and then disseminates to different parts of the body, including mouth and gums, lymph nodes.
CULTURE
Macroscopy and microscopy are not very characteristic. Thermally dimorphic: at 37ºC, a yeast-like form is produced whereas at 25ºC is a filamentous fungus. At 37ºC the colonies is white or cream with variable texture. Spherical cell produce piriform microconidia by synchronous budding forming the characteristic "steering wheels" of this fungus. At 25ºC slowly growing mycelial phase is developed with white to brownish colonies. Microscopically. Conidia are usually absent, intercalary chlamydospores cells might be present. If seen, conidia may show a 'bicorn cocked hat' appearance and barrel-shaped conidia are common to both species, P. lutzii frequently produces elongated, rod-shaped conidia, which sufficiently distinctive to be used for species diagnosis. The best way to identify this species is by sequencing the ITS fragment.
Biosafety level 3
ANTIFUNGAL RESISTANCE
Due to its slow growth and dimorphism, there is not an appropriate methodology to measure the resistance in the laboratory. It is not known if unresponsive cases are due to host's background or resistance to antifungals.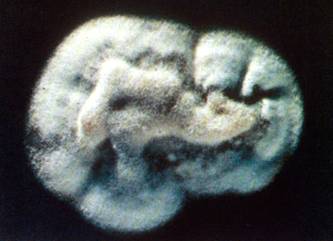 Pneumocystis
NAMES
Pneumocystis jirovecii (previously Pneumocystis carinii)
NATURAL HABITAT
Human lung. People with Pneumocystis pneumonia cough and this disseminates the infection. Probably so well adapted to the human lung (co-evolution), that it has lost the ability to grow outside the lung. Other mammals have their own adapted species.
GEOGRAPHY
Worldwide. Possibly human and/or P. jirovecii genetic variation alters local prevalence.
FREQUENCY
Common if sought carefully. Disease very rare unless immune system suppressed. Antibody studies in children suggest extensive exposure early in childhood.
DISEASES
Pneumocystis pneumonia (PCP) may occur in AIDS or other immunocompromised patients. Uncertainty about its role in chronic obstructive airways disease exacerbations. P. jirovecii may disseminate rarely to the blood, eye, brain and skin.
CULTURE
Cannot be cultured
Biosafety level 2
ANTIFUNGAL RESISTANCE
Resistant to all conventional antifungal drugs because ergosterol in cell wall is replaced with cholesterol. Illness responds to high doses of co-trimoxazole (trimethoprim/sulphamethoxazole), pentamidine, clindamycin and primaquine.
May be prevented with dapsone, co-trimoxazole or atavaquone.