Trichophyton is a dermatophyte filamentous fungus. It is a common cause superficial infections such as onychomycosis and various kinds of tinea, although it can occasionally become invasive.
The taxonomy of Trichophyton spp. and other dermatophytic fungi has recently been revised (de Hoog et al, 2017). There are 16 accepted species in 4 series or complexes of which T. rubrum and T. mentagrophytes are the most common. T. rubrum and T. violaceum are considered similar as part of the one complex. Species within the T. mentagrophytes series include T. mentagrophytes, T. tonsurans, T. interdigitale and T. schoenleinii. A new clade within the T. mentagrophytes complex has emerged in India, with high levels of terbinafine resistance (Singh, 2019).

Factsheets
Trichophyton mentagrophytes
NAMES
Trichophyton mentagrophytes
NATURAL HABITAT
Humans and occasionally animals such as cats, dogs and rats.
GEOGRAPHY
Worldwide
DISEASES
Tinea pedis, Tinea corporis, Tinea cruris, onychomycosis and occasionally Tinea capitis.
FREQUENCY
The second most common cause of dermatophytosis.
CULTURE
Colonies are white or cream, with a yellow pigment and the surface has a powdery appearance. The underside of the plate is orange to yellow. Microscopy shows abundant conidia, either rounded or tear shaped. Macroconidia are usually absent when the strain has been isolated from humans, and can form fine-walled cigar shapes.

Biosafety level 2
ANTIFUNGAL RESISTANCE
Terbinafine would be the optimal treatment, although increasing instances of resistance are described, especially in India. Other antifungals like ketoconazole, clotrimazole, itraconazole, naphthalene and amorolfine are also active. This species is generally resistant to fluconazole. Patients failing terbinafine usually respond to high dose (i.e. 400 mg daily) itraconazole.
INDUSTRIAL USES
None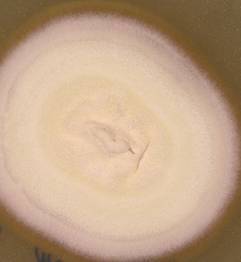 Trichophyton rubrum
NAMES
Trichophyton rubrum
Granular type and downy type.
NATURAL HABITAT
Anthropophilic dermatophyte: infectious lesions (tinea); animals very rarely infected.T. rubrum is an obligate human pathogen not found in the environment.
GEOGRAPHY
Worldwide.
Granular strain is a frequent cause of tinea corporis in South East Asia and in Aborigines living in the Northern Territory of Australia. American troops returning from the Vietnam War brought this strain back with them and refugees from South East Asia also facilitated the global spread.

The downy type evolved from the granular strain by establishing a niche on the feet (tinea pedis), when the latter was imported into Europe about 100 years ago.
DISEASES
Tinea of the groin, glabrous skin, feet, hands, and the nails. Tinea cruris, tinea corporis, tinea pedis, tinea manuum, and onychomycosis. The scalp is very rarely infected.
PREVALENCE
Most widely distributed dermatophyte of man.
CULTURE
Biosafety level 2
ANTIFUNGAL RESISTANCE
Ketoconazole, clotrimazole, itraconazole, fluconazole, terbinafine, naftifine, and amorolfine are in general active in vitro against T. rubrum. Terbinafine resistance has recently emerged and reference susceptibility testing methods are now published, although Etest strips can be used.
INDUSTRIAL USES
None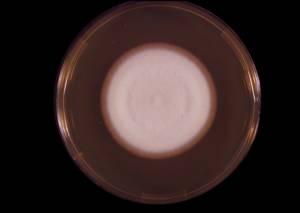 Trichophyton indotineae
NAMES
Trichophyton indotineae (formerly T. mentagrophytes)
NATURAL HABITAT
Dermatophyte infections are particularly common in tropical and subtropical countries, where temperature and humidity are high most of the year, enhancing fungal infection. Thought to have originated in burrowing animals.
GEOGRAPHY
Thought to have originated on the Indian sub-continent. Cases have been reported in Japan, but these are from the Indian and Nepalese nationals (Kano et al, 2020). First cases in Europe have recently been reported (Jabet et al, 2022). Cases also reported in Cambodia, Iran, Bahrain, Switzerland, Greece, Finland, and Germany and is thought introduced by inhabitants or visitors from the Indian subcontinent. The origin of T. indotineae, which currently causes a significant public health problem, is zoonotic, and its emergence is likely due to widespread misuse of topical antifungals, especially terbinafine. The cause of this outbreak has been speculated to be driven by the uncontrolled over-the-counter sale of topical cream containing both steroids, antifungals and antibiotics.
DISEASES
extensive dermatophytosis is characterised by tinea cruris, tinea corporis, or both, of the glabrous skin. Extensive and inflammatory tinea corporis (ringworm) is a hallmark of infection.
PREVALENCE
20 to 25 percent of the global populations are affected by dermatophyte infections. Rising cases of T. indotineae due to it being highly resistant to treatment.
CULTURE
Biosafety level 2
ANTIFUNGAL RESISTANCE
Resistant to terbinafine. Reduced effectiveness of fluconazole, griseofulvin and itraconazole. Higher doses of itraconazole (ie, 200mg twice daily) has shown better efficacy (Singh et al, 2020), but is not always effective.
INDUSTRIAL USES
None