SUMMARY: Voriconazole can induce QTc prolongation and life-threatening arrhythmias. Dr Pasternak and colleagues in Israel found that QTcP >60 ms occurred in around a third of children receiving voriconazole. They recommend ECG monitoring for all patients, and correction of electrolyte imbalances (especially potassium) before initiating voriconazole treatment.
Voriconazole occasionally induces QTc prolongation (QTcP) in adults, which can lead to life-threatening ventricular arrhythmia and torsades de pointes (TdP). However, rates for this side effect in children are not known, as most data are extrapolated from adult trials.
Dr Pasternak and colleagues in Israel conducted a retrospective study of 55 children treated with voriconazole at a children's tertiary medical centre in Israel. QTcP was a common occurrence and one case of TdP was reported.
The mean QTc interval was 402.8±27.9 ms initially, rising to 440.0±45.3 ms during voriconazole treatment. QTc reached >500 ms in 10 children (18%), including one 14yo girl who developed TdP. Even though the centre's guidelines specified that ECG monitoring is required for all patients receiving voriconazole, a further 96 patients were excluded from this trial due to missing ECG recordings (i.e. only around a third of patients were monitored according to their own guidelines).
What can I do?
Carry out ECG monitoring at baseline and during voriconazole treatment, especially when other QTc prolonging drugs are being used concurrently. Correct electrolyte imbalances (particularly potassium) before initiation of voriconazole treatment, for example in children with chemotherapy-induced diarrhoea
Read the paper: Pasternak et al (2019) Voriconazole-induced QTc prolongation in a paediatric population Acta Paediatr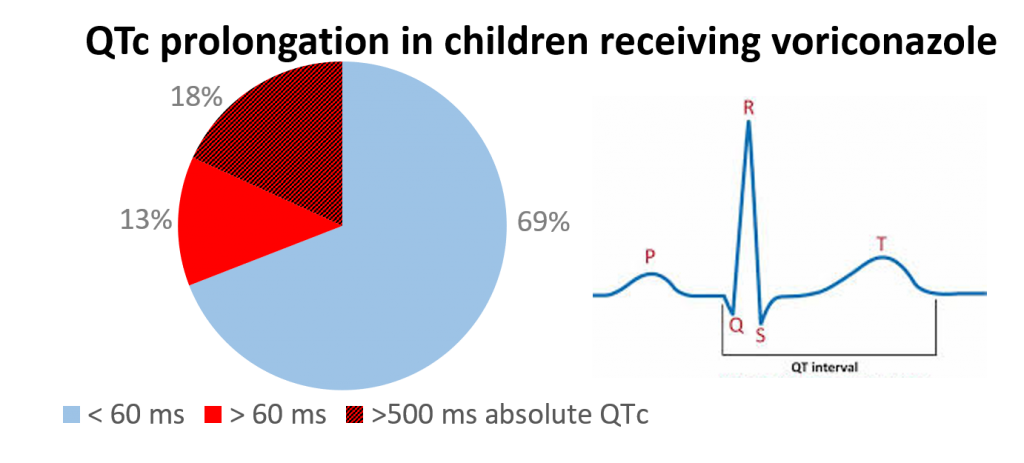 Children receiving voriconazole should receive ECG monitoring and electrolyte imbalance correction